Publisher: Electronic Arts
Developer: BioWare
Platform: PC
Genre: Role-Playing
Release Date: 05/28/2008





My Opinion
Its got everything that you would look for as a RPG fan - Amazing visuals, original story, good game play, interesting characters, good sound track etc
The story is about a human named commander Sheperd. The main character could be either male or female. The player is given the choice of selecting different personal backgrounds, class and special abilities. This is well suited to appeal to players with varying tastes. Hence there is a lot of replay value here as the main character interacts differently depending on his/her background, class etc.

The graphics are stunning and the presentation is like a movie. Both the console versions and the PC version look great however the PC version requires a beefed up system to enjoy all the eye candy. The PC version also has a small stutter problem from time to time but nothing serious as to hamper the overall experience.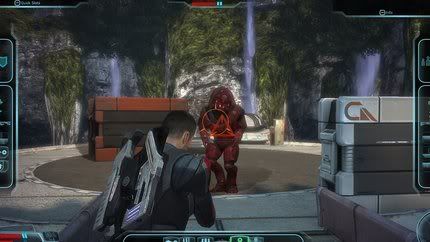 The audio score is one of the best I've seen in a RPG. The Elder Scrolls IV Oblivion fascinated many gamers when it was released and audio played an important factor in determining the success of that game. Same goes with Mass Effect. It feels like original cinematic score.

The game play is very good and responsive. There are many weapons for your character to play with and also special abilities like biotic/tech damages that you can use to overpower the enemy. Put this all into the mix with easy to understand HUD and UI and you have a winner. Initially you may feel that there is so much on your plate thanks to a poor tutorial system however as you play through the game you should be able to get the hand of it.

Finally I recommend every RPG fan or casual gamer to go out and buy this masterpiece. Its worth the $ 49.99 tag. Beautiful visuals, good game play and stunning background score all make this a highly addictive and memorable classic.